Hi everyone! Welcome to CityFoodStudio's brand new blog and website. Things a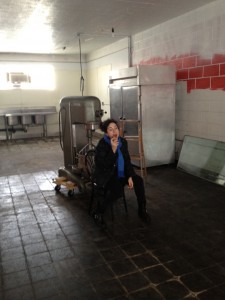 re moving fast over at the kitchen — in just a few short months, what is currently a big, half-painted semblance of a kitchen (Rachel demonstrates to the right) will be transformed into our bright, bustling CityFoodStudio.
In this very first blog post, we're thrilled to be able to share with you our very first bit of media coverage! Minnesota Monthly did a nice write-up of CityFoodStudio in their February feature The New Traditionalists. Main man Journey Gosselin was pleased to be featured alongside other Minneapolitans who are embracing the DIY, back-to-basics lifestyle.
A few weeks before the article came out, we spent a fun morning with photographer Kelly Loverud and his lovely assistant Nila doing a photo shoot at the future home of the kitchen. The day was frigid but we warmed up with sustenance from our neighbor Blue Ox Coffee and a tangy, soft sourdough loaf from – who else? – one of our artisans Bread Sta
r Rising. Journey, bread baker Margaret Chamberlain, FrozBroz craft ice cream-maker Ben Solberg, and Ryan Billig of Tempe Betjak posed with our big floor mixer and a rickety stepladder: two apt symbols for the hard work we're doing now, and the days of cooking, baking — and of course eating — yet to come! (Journey posed for some portraits as well – there he is to the left, in a very serious one.)
Be sure to continue to check back for updates, photos, and soon, plans for our grand opening!